If you are new to cloth diapering or want to see what others say about different brands, then check out the upcoming giveaways on other blogs.
Eco Baby Mama Drama
is having a "Falling into Fluff" event from November-December 2011 "
in
honor of baby Tates recovery from his battle with C-diff and us being given the Dr.'s blessings to get back into cloth diapers.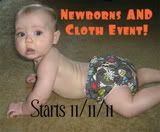 Life With My Littles
and
One More Flew Over the Cuckoo's Nest
are teaming up to have a "Newborns and Cloth Event." Both blogs are having reviews and giveaways on their respective blogs. The event will run from November 11-December 2. Be sure to check out both blogs and their giveaways.