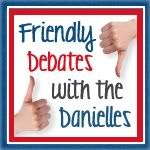 Every Sunday night,
Danielle H.
and
Danielle B.
host a debate topic where other bloggers can write a blog post and link it to their blogs. This weeks topic is
Breastfeeding in Public: Yay or Nay? What do YOU say?
I say MOST definitely YES.
Unfortunately, breasts are over sexualized in America. That's the only thing people see breasts for-sex. Many people forget that breasts have another function-nursing a toddler. I have breastfed my daughter in public NUMEROUS times-both with covers and without covers. The last two times I breastfed her in public-Christmas Eve at the mall in D.C. and tonight in Target-have been without a nursing cover.
When my daughter was first born, I often nursed her in the bathroom and would ONLY nurse her with a cover. I was so conscious that I might accidentally flash someone, but now, I often nurse her without a cover. I have found that people would notice that I was breasfeeding my daughter EVERY.SINGLE.TIME when I had a cover on, but when I don't use a cover, I almost never get a double glance. I think this is because most just see me holding a baby. I often try to find someplace quiet-
not the bathroom
-sit down and nurse Charis. I don't flash people. Nipples are not visible, and often my breast is not visible. Thankfully, Drew agrees that if somebody has a problem with me nursing me daughter in public, with or without a cover, that's the other person's problem, not mine.
I think this debate would have been better if it was, "Is it OK to breastfeed without a cover in public?"
Most
mommy blogs that I have read seem to agree that it's fine to breastfeed in public, but the disagreement comes when mothers choose to breastfeed without a cover.