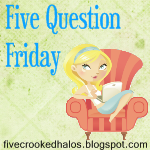 1. What is the weather like where you are and do you like it?
Today, the weather in Maryland was in the low 60's!! Wow. Charis and I went on a walk in the park. It was a beautiful, gorgeous day outside.
2. When you're sick what do you seek comfort from?
When I'm sick, I cry like a baby and want to sleep, and as I learned at Thanksgiving I prefer to sleep in my own bed. I HATE being sick. If I've been vomiting, I also seek comfort in brushing my teeth. I try to remind myself that I should also be thankful for my health.
3. What do you need to do before the end of the month?
Finish knitting longies for my SIL, her estimated due date is February 3rd!!
Continue taking pictures for my Project 366.
4. Have you ever served on a jury?
No. When I was in nursing school, I received a summons to appear at a courthouse in Pennsylvania, but I had moved out of the county.
5. If you could be any animal, what would you be and why?
Okay, I have VERY little imagination, and this is a pointless question because I'm not an animal and don't believe in reincarnation; so, I'm not going to answer this question.